Eric Joisel: Médias
Eric the joker by Dave Brill
Others have written about Eric's extraordinary artistry and origami design skills, and of course I agree with and confirm all they have said.
But I should like to recall some of the insane moments we spent together to show Eric the joker.
Charlotte… Join the BOS !
Eric Joisel and I attended the last South East Origami Festival in Charlotte, North Carolina, 2002. At that time I was British Origami Society chairman, and I encouraged US enthusiasts to join the BOS wherever I could, and giving out brochures and other promotional material. Eric teased me about this, saying "Oh, I don't believe it! Do you ever stop this BOS publicity, Dave?"
For the last night concert, Paul Jackson wrote a spoof origami opera in which the performers included Vincent Floderer (lodger), Romain Chevrier (son), Ruth Anne Bessman (Mother), Dave Brill (father), June Sakamoto (God). We sang our lines in improvised discordant Schoenbergian melodies while Paul 'played' the piano, thumping random keys, to provide the discordant accompaniment. Most of the characters "died" during the performance, both artistically and theatrically, but June in her role resurrected everyone, and of course everyone lived happily ever after.
The 'opera' performance took a mere five minutes in total, but Eric suggested there really should be an interval. He prepared a large placard with the word 'INTERVAL', and half way through, he walked across the stage from right to left showing the placard to the audience. Then he turned the placard over, moving back to the right. The reverse side of the placard carried the words, 'JOIN THE BOS IMMEDIATELY!!!'
Noisy Chinese restaurant diners
I organised the BOS 30th anniversary convention in York in 1997. Star guests were Alfredo Giunta, Michael LaFosse and Akira Yoshizawa.
Anxious to meet the aging Yoshizawa, Eric Joisel also came as an ordinary conventioneer, this being his first exposure to BOS audiences.
Along with him came his fellow countrymen, Alain Georgeot, Patricia Niviere and Veronique Leveque. During the convention weekend, the French party were conspicuous, to say the least! They laughed loudly, heckled and joked at every opportunity: something not common at traditionally serious and conservative BOS meetings.
I invited all the French party to stay at my house on the night after the close of the convention and we dined that evening at a local Chinese restaurant (Eric: 'Restaurant?…that's a French word…!')
Click here to continue
During the meal, the loud laughing and joking and high spirits continued, prompting looks of irritation from nearby diners. So I said to all 'Excusezâ?moi mes amis! Un peu de silence, s'il vous plait… I'd like to come back to this
restaurant one day soon.'
Eric replied, 'Dave, you are in no position to talk: remember, you English burned our beautiful Jeanne d'Arc at the stake. French people can never forget this!'
Voyeur (that's a French word…?!)
Eric and I arrived early in Tokyo for Akira Yoshizawa's Beiju (88th birthday celebrations) in October 1999. We had been invited to this memorable event because we (as well as several other guests) had arranged visits by the master to our respective countries.
Eric and I were invited to see last stages of the set up of Yoshizawa's commemorative exhibition on the top floor of the Matsuya Ginza department store in central Tokyo. Arriving early in the morning before the store opened, we were directed to a service lift at the back of the building. We called the lift, and when it arrived the doors opened to reveal two unclothed female mannequins inside. Somewhat taken aback, I stepped inside, but Eric made sure that the moment was captured for posterity in this picture…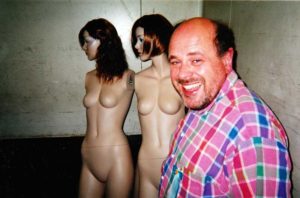 ---
And now for a few Joisel media events…
To create with a sheet of paper by only folding, will always challenge the majority of us.
To create works that live and breathe will be attained by only the most skilled of us.
But to give them joie de vivre, élan, in grande ballet,
We must look to Eric Joisel
For of course they are all French you know.
Jonathan Baxter